COURSE Leadership Skills
Corporate Learning and Leadership Strategies
Assessing leadership styles, measuring effective performance, and the power of a clear vision
Created by
Hannah Hurckes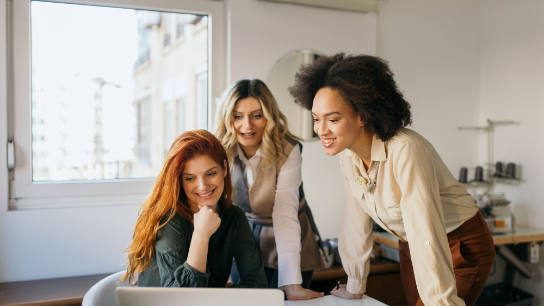 About this course
C-suite executives help companies of all sizes navigate complex challenges. But are all leadership styles the same and how can businesses develop robust learning opportunities so that talent can be nurtured and future leaders do not get left behind? In the first episode of the Corporate Learning and Leadership series, Chris Mines is joined by Heather Hurckes, Landstar agency owner and the CEO of Boss Lady Logistics. They discuss how C-suite executives can adopt a servant leadership style, ways to develop flexible learning strategies, and how to create an empowering work culture.

Some of the topics discussed in this course include:
An overview of servant leadership
How to develop emotional intelligence
Motivating staff and managing effective performance
Implementing SMART Goals and clear learning opportunities
Connecting with stakeholders and more!
Certificate of completion
---
---
100% moneyback guarantee
If you cancel within 10 days and you're not completely satisfied, we'll give you all your money back. No questions asked.
Training 2 or more people?
Get your team access to 3,169 top CPDFormula courses anytime, anywhere.
Corporate Learning and Leadership Strategies
56m 51s
Learn from the best
Currently an Independent Agency Owner at Landstar based in San Diego County. My job consists of all supply-chain and logistics aspects as well as our marketing strategies from social media marketing, e-commerce platforms, and digital strategy. I have an emphasis on data-driven analytics and creating innovative solutions to help make my team stronger and more effective. My previous experience has given me exposure to both supply chain and retail environments and has given me the knowledge to effectively lead a successful business. One thing that I value most is the connection between employees and customers through customer engagement. I also offer logistics, supply chain, and business consulting services. On my off hours, I am an inspirational speaker who speaks at large events nationwide as well as engaging in my new passion of narrating audiobooks.
Christopher Mines
/ AUTHOR
I have over a decade of multimedia experience as a desktop publisher, Livestream producer, PA announcer, webcast director, professor, emcee, and more. I am a radio broadcasting graduate with additional coursework in political science and journalism. I gained critical knowledge while shadowing veteran broadcasters. I have extensive training in creative writing, current affairs, freelancing, and story structure. I have crafted current affairs interviews with Justin Trudeau, Romeo Dallaire, Ed the Sock, Kenny and Spenny, and Mike MacDonald. I love working as a creative storyteller and having conversations with people from all walks of life. My goal is to connect with diverse voices and to foster discussions on complex issues while striving to make the conversations as accessible and inclusive as possible.