COURSE Project Management Skills
Time and Project Management for Working from Anywhere
In this fast-course we work with practical techniques to help you: 1. identify and eliminate time wasters 2. create a to-do list 3. prioritize your tasks 4. plan the work 5. execute the plan
Created by
Roxana Radulescu
About this course
By the end of the course you will be able to understand and apply the techniques that help you to:
1. identify and eliminate time wasters
2. create a to-do list that gets done
3. prioritize your tasks
4. plan the work
5. execute the plan
Certificate of completion
Preparation required

Download the workbook available with the course.
---
---
100% moneyback guarantee
If you cancel within 10 days and you're not completely satisfied, we'll give you all your money back. No questions asked.
Training 2 or more people?
Get your team access to 3,024 top CPDFormula courses anytime, anywhere.
Intro Exercise - How long is your minute?
8m 53s
Identify Your Time Wasters
5m 34s
Section 2. Time Management Techniques-Part1
Creating Your To Do List
2m 59s
Prioritizing Your Tasks - ABC Technique
4m 17s
Prioritizing Your Tasks - More Techniques
8m 31s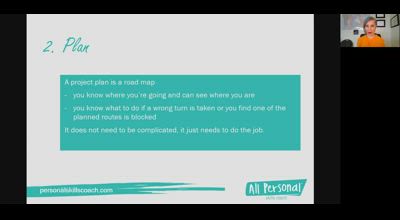 Planning Your Tasks
13m 40s
Executing Your Tasks
9m 24s
Learn from the best
Roxana Radulescu
/ INSTRUCTOR
Helping People Managers become Dream Bosses and build Dream Teams | Leadership Coaching | Team Coaching | Workshops | eLearning | TEDx Speaker | Ex Global Head of Learning & Development
Roxana Radulescu is the Founder and Chief Game-Changer of All Personal, a Canadian training, coaching and consulting company helping people managers and their teams boost communication, engagement and performance, for long-term thriving results. Unlike other people leadership programs that focus on top executives (most often too late in their leadership journey!), her programs are focused rather on mid-managers and their teams. Having worked in international Magic Circle law firms for 16 years and having led the firm-wide Learning & Development department for 8 years, Roxana started her consulting journey in 2017. She is an introverted TEDx Speaker, certified Learning & Development and HR practitioner, Master Coach, Team Coach, online & e-learning course designer & facilitator, podcast & live show host. Roxana has also designed and taught the Workplace Culture and Communication program at York University and College Boreal in Toronto. She is also a contributing author on award-winning e-learning platforms!